EasyPay - Online Aadhaar Hackathon - Submission
Demonstration
A self explanatory demonstration of the application is at EasyPay.
Please use the Google Chrome! :-)
Introduction
The Aadhaar number is a fantastic project that aims at giving every person in India an identity. At a fundamental level, having and being able to prove one's identity is basic human right. Being able to do this through a path of very minimal resistance opens up a plethora of opportunities for business use cases in the private sector.
EasyPay is a proof of one such application using the Aadhaar platform. It demonstrates the ability to BUY and SELL virtual candies purely through a Two Factor Authentication provided by the Aadhaar platform and its partners.
Use case of EasyPay
Santosh is a virtual candy vendor with minimal resources. He has been able to establish his identity through the aadhaar card platform and has been recognized as a aadhaar approved business entity. It is a milestone to be certified by the government recognized body as someone who can conduct transactions through Aadhaar Approved vendors.
Sujeevana is a working mother and a candy lover also referred to as the consumer. Sujeevana has a payment method that has been registered with EasyPay a Aadhaar approved platform to facilitate monetary transactions.
The entire process can be done securely and using current information through the Aadhaar authentication.
The steps of the business use case are:
Santosh sets up EasyPay to sell virtual candies
Sujeevana comes and place the order
Order gets authenticated using Aadhaar auth process
Sujeevana gets directed to the OTP authorization page
Sujeevana enters the OTP to securely authenticate herself and completes the order
Santosh fulfills the order by giving Sujeevana 5 additional FREE candies
Sujeevana moved up the Candy Lover Leaderboard in real time
Commercial Applications
The use case can be applied in real life for:
Supermarkets
Ordering Mobile Connections (5 mins to a verified mobile connection)
Courier and Logistic services (For authenticated user verification)
Enhancements to Payment Companies like PayTM
INSTALL instructions
Download to a Ubuntu 14.04 machine
Unzip the app folder
Change directory to app folder cd app
Install meteor using curl https://install.meteor.com/ | sh
Start the server using meteor
Pray! :-). Hope the server starts at http://localhost:3000. Else try running meteor again upto three times!
Try out the app
Pictures! :-)
First Page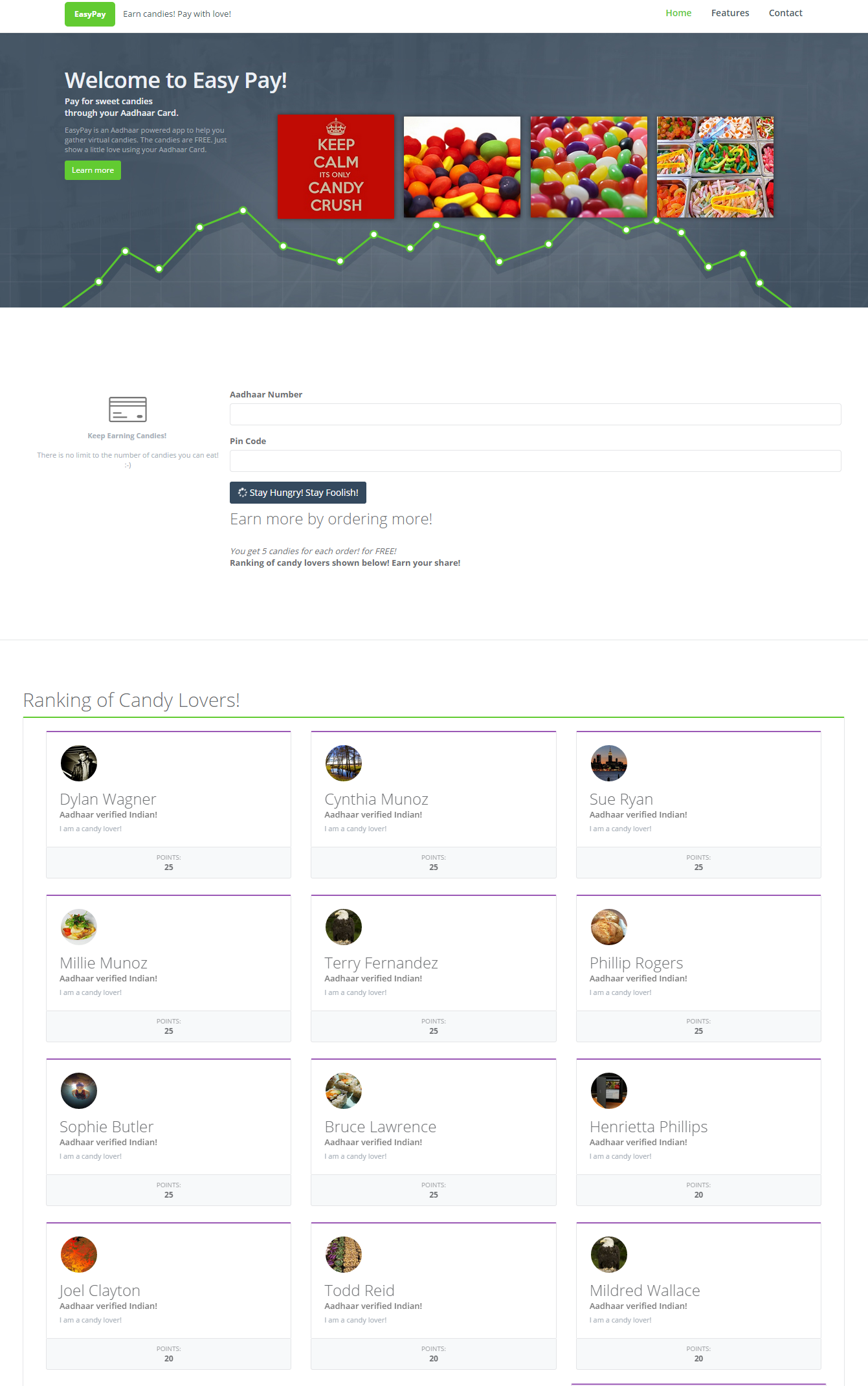 Second Page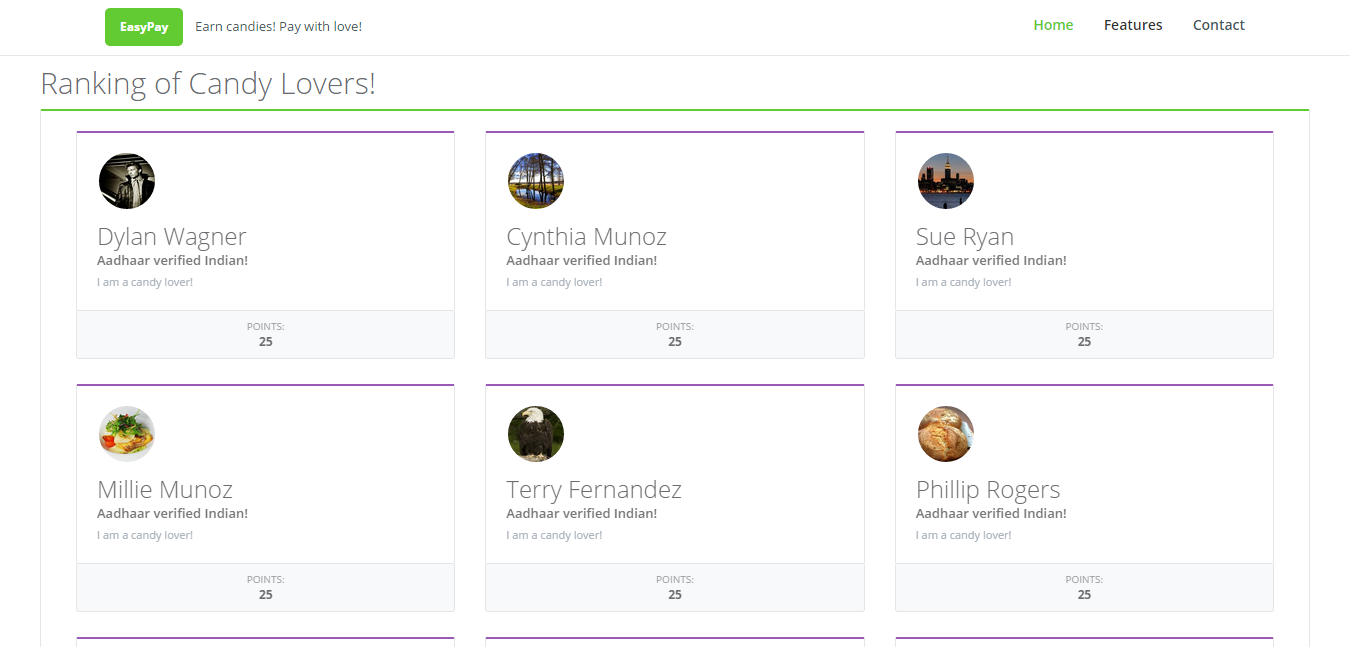 Order Page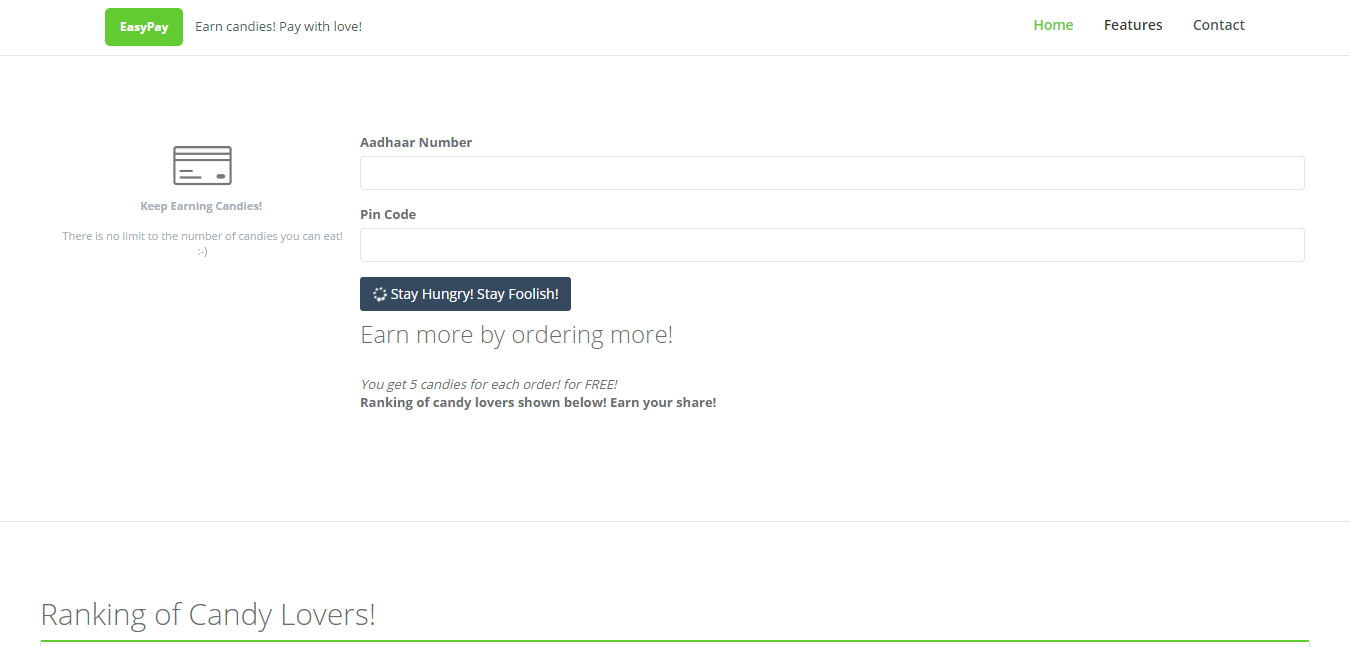 Confirmation Page